last month we read
Lacey's
pick,
Skinny Legs and All
by Tom Robbins. i must say, i wasn't a big fan. she's since finished the book and has written about it on her
blog
, i have yet to finish it. i found it very hard for me to get into and follow, so i'm going to put it down for a bit and start on a new book. this month, we are reading my pick...
The Big Over Easy
by Jasper Fforde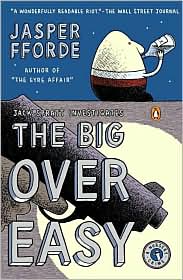 The Big Over Easy
is a book about the murder of Humpty Dumpty and an inspector and his sergeant from the Nursery Crime Division trying to solve the case. while doing so, they find themselves knee deep in secrets of the Reading (the town the book is set in) society and business. so it's sort of like Law & Order, but a book version. i heart Law & Order SVU (Mariska is the woman!). i picked this one cause i liked books that deals with fairy tales and make believe. separately, Lacey and i both really enjoyed
The Book of Lost Things
, so i thought this one might be as interesting. hopefully it's as good.
let us know if you want to join!
so if you're interested, pick up the book. at the end of the month,
Lacey
(the designated one) will write a review about it and we will discuss it on her blog. what fun?!